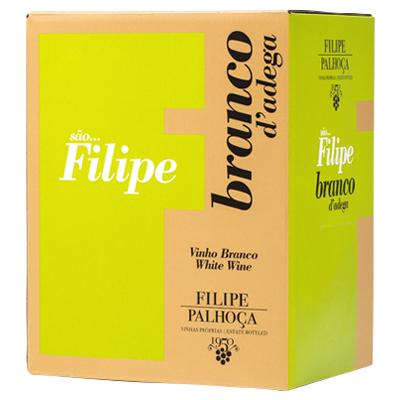 SÃO FILIPE D'ADEGA WHITE BIB 5L
This fresh and velvety white wine was made from white grapes carefully cultivated and harvested. Displays open straw color, aroma of tropical fruits and floral hints, soft in the mouth and with balanced acidity.
DENOMINATION Vinho de Mesa Península de Setúbal
VARIETIES Fernão Pires
VINTAGE –
WINEMAKING Harvest took place at the end of August. Fermentation with controlled temperature at 12-14ºC in order to retain all the freshness and aromas.
ALCOHOL 12,5%
LONGEVITY –
WINEMAKER Jaime Quendera
SERVING SUGGESTIONS Preferably drink between 8 and 10°C, pairing with fish dishes, seafood and salads day-to-day